The Dos and Don'ts of Pop-Up Camper Camping Etiquette
Camping in a pop-up camper can be an entertaining and delightful experience for everyone involved, as long as everyone adheres to proper camping manners. If you're new to pop-up camping and need a few etiquette tips, simply being polite and conscientious goes a long way, but there are still some things you may not be aware of.
Here are some things to do and not to do to keep in mind when camping in a pop-up caravan:
DO arrive during the day: If at all feasible, attempt to reach your camping spot during daylight hours. This will make it more manageable to set up your pop-up camper and get settled in before it gets dark. It will also be less disruptive to your fellow campers, since your headlights and the noise of setting up might wake them up if you arrive too late.
Some campgrounds even lock the gates after a certain time, or require that campers check in during business hours, so make sure to check ahead!
DON'T blast loud music: One of the most prevalent camping etiquette violations is playing deafening music. While it might be appealing to pump up the tunes and have a party, remember that you are sharing the space with other people. Be thoughtful and keep the noise level to a minimum, mainly at night.
This isn't to say that you can't start up a campfire sing-a-long. In fact, why not invite your camping neighbors if you do, and make some new friends. Just don't get too rowdy too far into the wee hours, and you can avoid making new enemies instead.
DO keep your camping spot clean: Ensure that you keep your camping spot clean and free of debris. This means packing up your litter, putting away your food, and cleaning up after yourself. A clean camping spot is not only more delightful to look at but also helps prevent unwelcome visitors like wildlife.
If you are camping in an area where bears, or other wildlife, have been an issue in the past, make sure to pay attention to any directions you might receive from campground management, hosts, or rangers. As pop-up-campers don't do much to block the scent of your tasty treats, you may need to hang your food in a tree, use secure coolers, or other methods of keeping the wildlife out.
DON'T leave your possessions lying around: Keep your personal belongings within your camping spot and don't leave them scattered around the campground. This will help keep the area neat and prevent tripping hazards for your fellow campers.
Pop-up-camping is like hiking in that you should focus on bringing home everything you bring along with you, including trash. Unless the place you're camping has secure trash disposal facilities, plan on packing out everything that you packed in.
DO respect quiet hours: Most campgrounds have designated quiet hours, usually between 10 PM and 6 AM. During this time, keep noise levels to a minimum and avoid activities that could disturb other campers, such as loud conversations or playing music.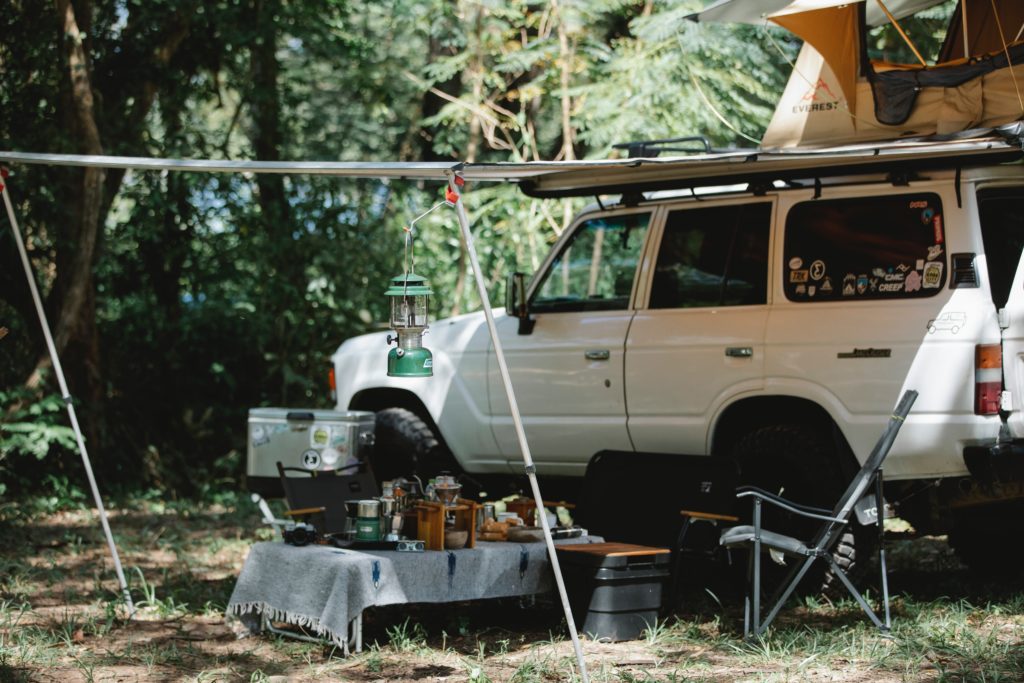 DON'T ignite fires where they're not allowed: Ensure that you check the campground rules and regulations before building yourself a fire. If fires are permissible, make sure to build them in designated fire pits and always keep them attended. Never leave a fire unattended, and always make sure it's wholly extinguished before leaving the site.
If you're a fan of campfires, you may also want to buy a portable fire pit. Portable fire pits can make a campfire a little easier to manage, and they also come in handy when there's no fire pit at your campsite. You still need to check whether campfires are allowed, though. Even if you've had a campfire at a place before, there may be a burn ban in place.
DO be friendly and courteous to your fellow campers: A smile and a friendly wave can go a long way in creating a positive camping experience. Be courteous to your fellow campers and offer to help if someone needs it. It's also an excellent idea to introduce yourself and make some new camping friends.
DON'T cut through other people's camping spots: Always use designated pathways or roads to get around the campground. Avoid walking or driving through other people's camping spots, as this can be disruptive and disrespectful.
DO be ready for the weather: Weather can be unpredictable, so it's vital to be prepared for all kinds of conditions. Bring appropriate clothing and gear for the season, and be ready for rain or other adverse weather conditions.
Following these things to do and not to do will ensure that you have an enjoyable camping experience while also being considerate of your fellow campers. Remember, good camping manners go a long way towards creating a positive and welcoming camping environment.